You can deprecate a phrase so that it will be archived and won't appear in the exported file anymore. 
Definition of deprecated strings: 
only admins will be able to view them. Other collaborators (moderators, reviewers, translators) will NOT be able to see them. 
they will NOT be included in the translation order when you order professional translation service from us. 
they will NOT be included in the downloaded translation file 


A) How to deprecate a phrase 
Method 1: Via the "Phrases" tab on OneSky
1. Go to "Phrases" 
2. Click on the drop down menu at the bottom of the phrase and select the file(s) that you want to deprecate that phrase from 
* A checkmark next to the file means that the phrase IS deprecated in that file

* If a phrase is deprecated in all files in your project, it will get hidden automatically so that collaborators will not be able to see them anymore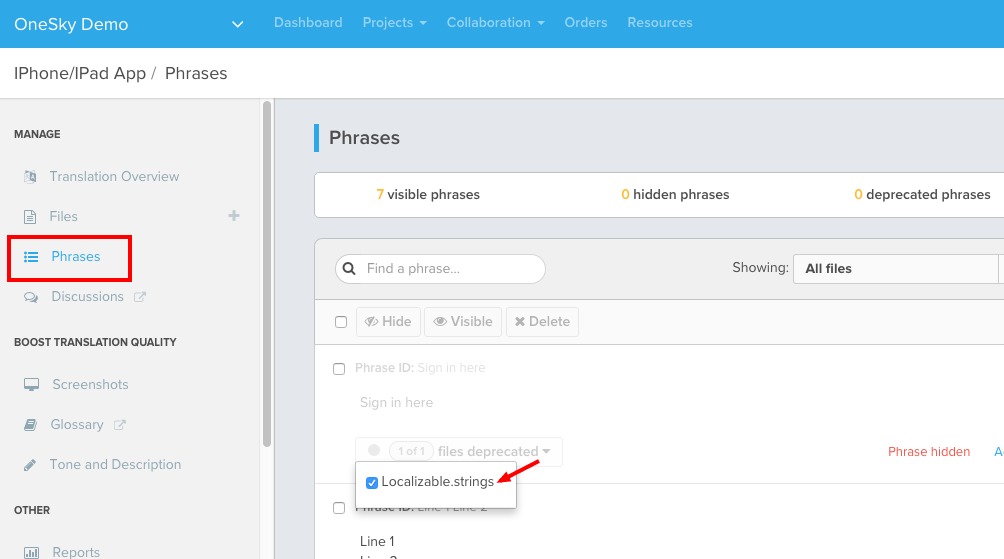 Method 2: Upload a new file and select the option "deprecate" during import
Read more from section A of this help desk article. 


B) How to undeprecate a phrase


1. Go to "Phrases management" > "Manage phrases" 

2. Click on the drop down menu at the bottom of the phrase and unselect the file(s) that you want to undeprecate that phrase from 

* A checkmark next to the file means that the phrase IS deprecated in that file