On-Device Localization Testing
---
To ensure the best quality, OneSky provides On-Device Localization Testing service where our professional testers will review your translations on actual devices to make sure there will be no broken UI (e.g. fonts, line-breaks, layout, etc.) or contextual issues.
After your translation orders are completed, incorporate the translations back to your app and send us your beta application to our translation reviewers using testing platform like TestFlight. 
After the test, OneSky will provide a detailed report listing all the issues found so that you can make corrections accordingly. The report will include: 


1. Summary of the findings
Highlights the major causes of the issues found to assist you in optimizing your localization workflow in your next translation around 


2. Details of the issues found
The issues will be grouped by categories for your easy handling. Common issues include  

- Untranslated string spotted (i.e. you did not import all the text in your app to our platform, e.g. errors in string wrapping, or the text is embedded in images and you didn't extract that) 
- Translation is too long that breaks the UI 
- Wrong line-break / misalignment 
- Contextual translation error (i.e. the translation doesn't fit the context. But we encourage clients can attach screenshots and add descriptions before placing orders to minimize the possibility of contextual errors)


For each issue, we will include the related screenshot and the link to directly access that phrase on our platform (unless that string does not exist on our platform for the untranslated string issue mentioned above) for your easy handling 
Below are some pages of a sample report (Thanks our client SnapPea for allowing us to use their report as an example).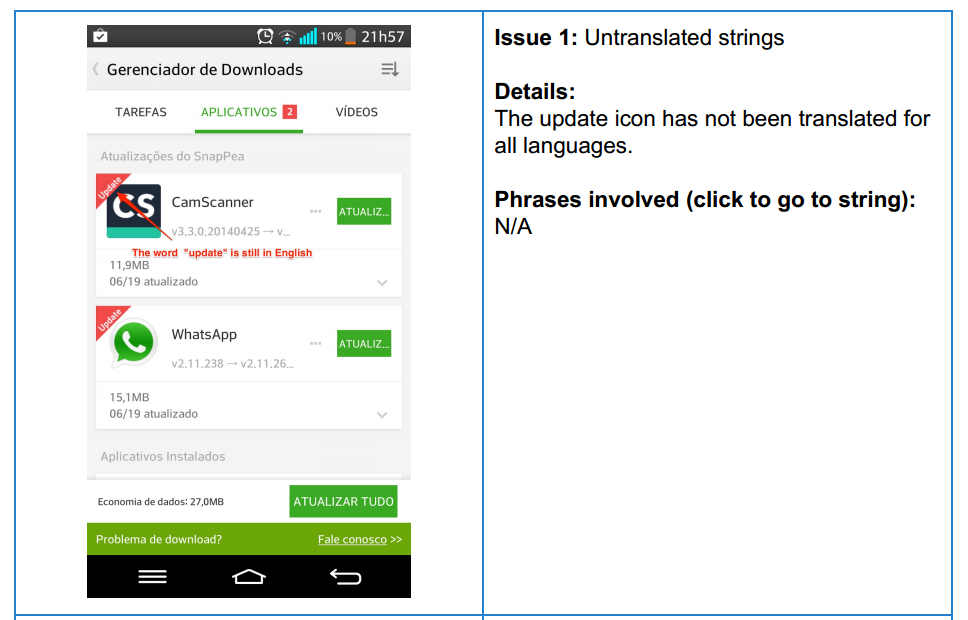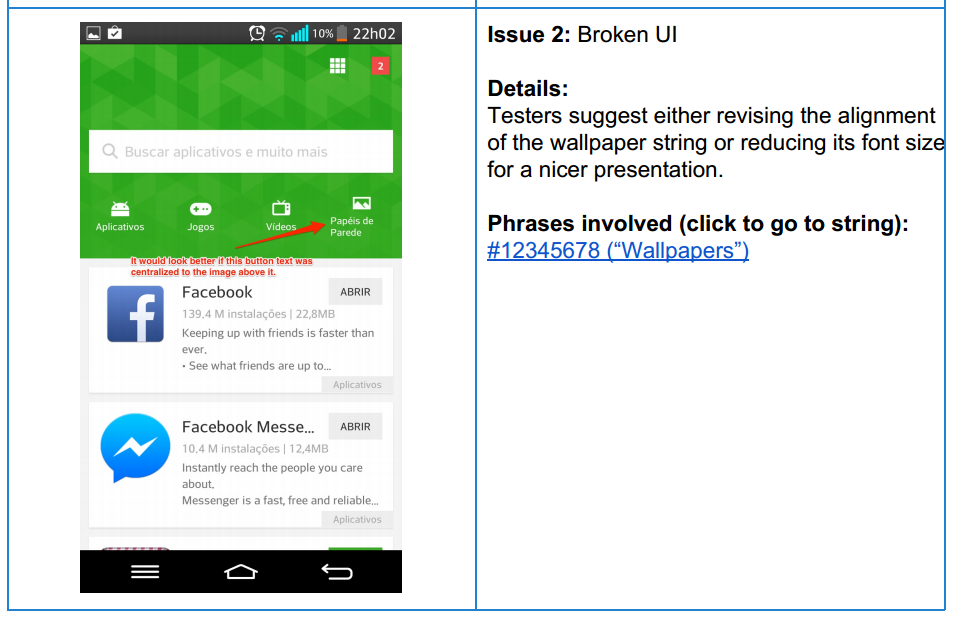 Order On-Device Localization Testing Service 
---
1. After the translation order of your mobile app is completed, go to the project page > "Translation overview" >  "On-device testing".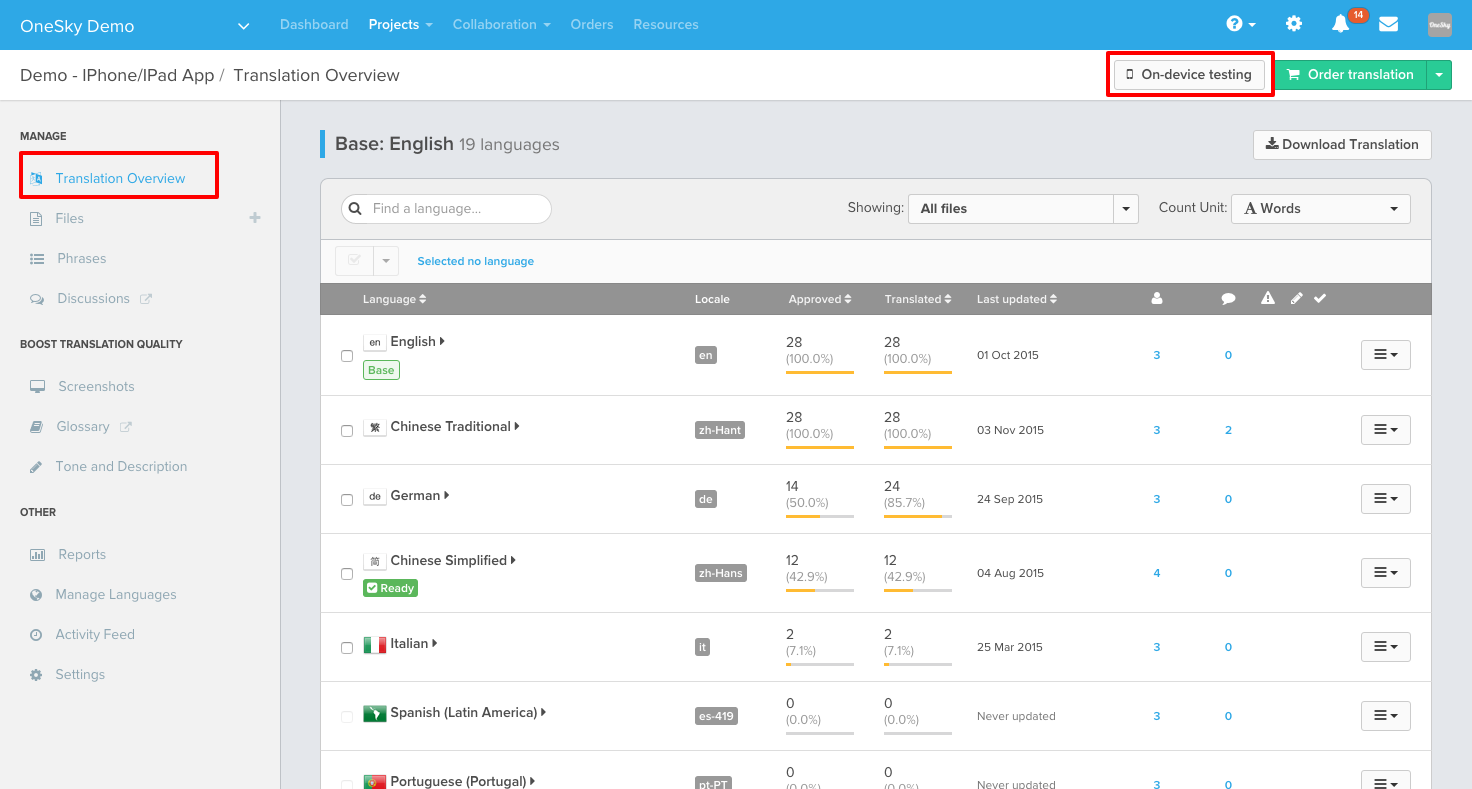 2. Choose the languages that you would like to test. Then select the devices that you would like the testers to use to perform the QA check.



3. After you have chosen the languages and devices, click "Request a Quote" and our Translation Team will respond you within one business day.
The rate of on-device localization testing is based on various aspects of your app (e.g. number of pages, number of words, etc.). Thus, we have to look into your app before we can provide you with an accurate quote.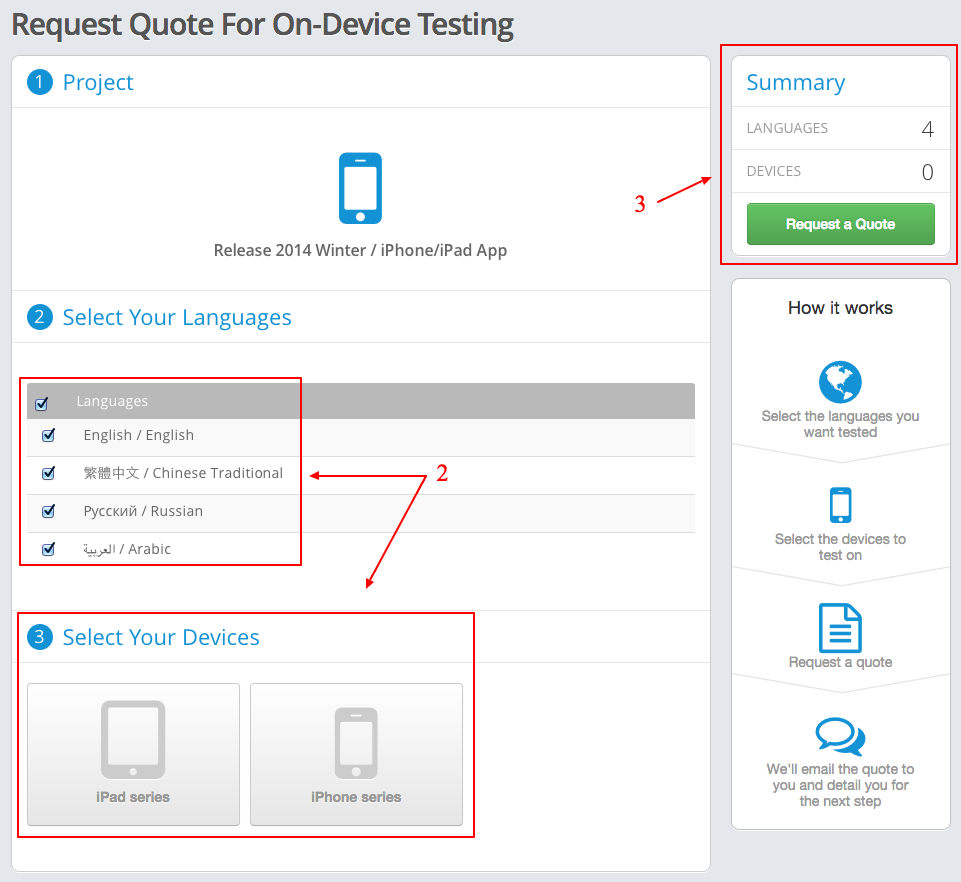 Related Posts on our Blog
---