If your projects contain identical source phrases, our system provides an easy way for you to migrate and reuse your translation among projects to save time and cost. 

*Destination project = the project you want to migrate translation TO
*Source project = the project you want to migrate translation FROM
(E.g. If you want from migrate translation from Project A to Project B, then Project A is the "Source project" and Project B is the "Destination project".)
Steps to migrate your translations
1. Add the languages you have translations for in your Destination project.
2. In your destination project, click the "+" sign next to Files
3. Choose Other platforms
4. Select the Source project from the drop-down menu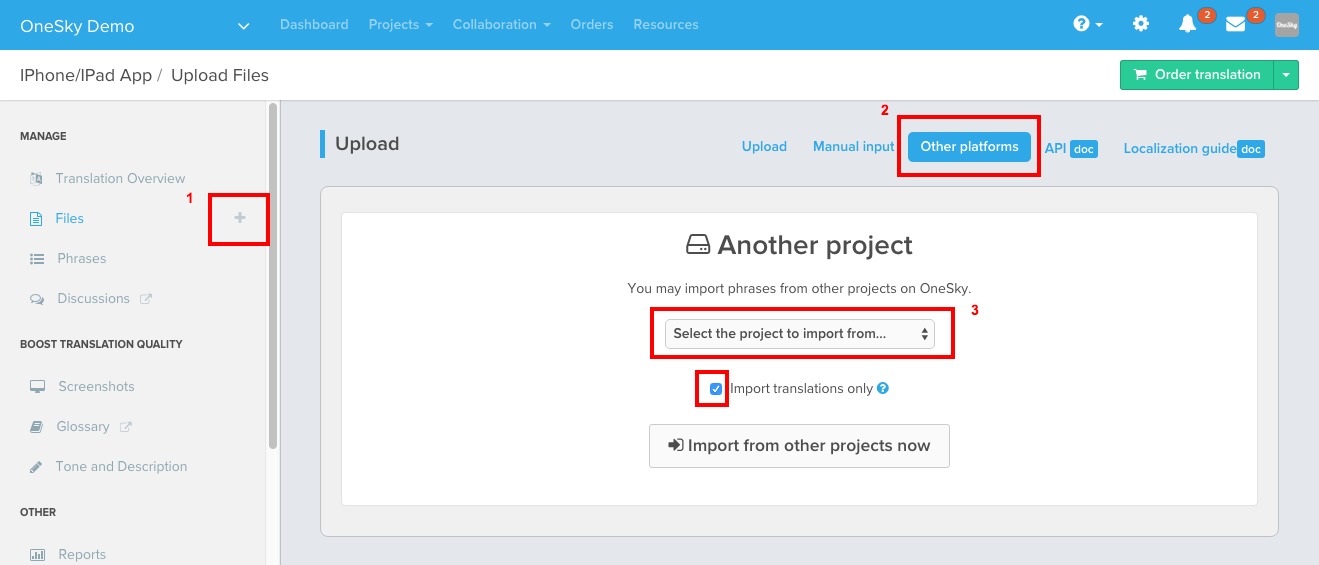 5. Translations for phrases with 100% matching base CONTENT (NOT string ID) will be migrated. This is case/whitespace/newline sensitive. Plural phrases or phrases with placeholders will also be skipped.
For example, take Source project string: I have an apple.
The following Destination project strings will not migrate:
I have an Apple. <-- capital "A"
I  have an apple. <-- whitespace 
I have
an apple. <-- newline 
I have an apple <-- missing punctuation
Note: We have pre-checked Import translations only. This means:
Only translations with their source phrases that are 100% match in CONTENT (NOT string ID) will be migrated.
If Source project contains strings A, B, C, but the destination project only contains strings A and B, we would only import the translations for A and B (and not string C) to the destination project.
If you uncheck the box, all strings A, B, C (including the source text of C) would be imported into the destination project. 
Example workflow: Migrating translations for your iOS and Android projects
Create your iOS project and upload base string files.
After translating the base strings of your iOS project, create a separate Android project. 
Upload the base language strings.xml file of your Android app (generated from Android internationalization).
Add the languages you wish to migrate translations for in your Android project. (The migration will NOT be successful without this step.)
Follow the steps above in this article to migrate the existing translations in your iOS project to your Android project (please select to "import translations only"). Then our system will analyze which phrases have 100% base content match for your iOS and Android projects and migrate the translations. (Translations for plural phrases and phrases with placeholders will NOT be migrated.)
After the migration is done, order translations for your remaining phrases. Select "phrases without translation" on the order page. 
Not all translations will be successfully migrated since:
placeholders are handled differently between iOS and Android platforms

iOS .strings can't handle plurals (but .stringsdict does)

Android .xml handles plurals