A translation glossary is a collection of the key terms in your source language that must be translated accurately and consistently. The glossary can also specify terms that should remain untranslated (e.g. Apple may prefer to leave the words "iPhone" and "iTunes").
A good glossary eliminates ambiguity and serves as a guide to translators on how to manage key terminology.
From our blog: How Translation Glossaries Improve Your App Localization.
Adding a glossary term
---
1. Go to your Glossary page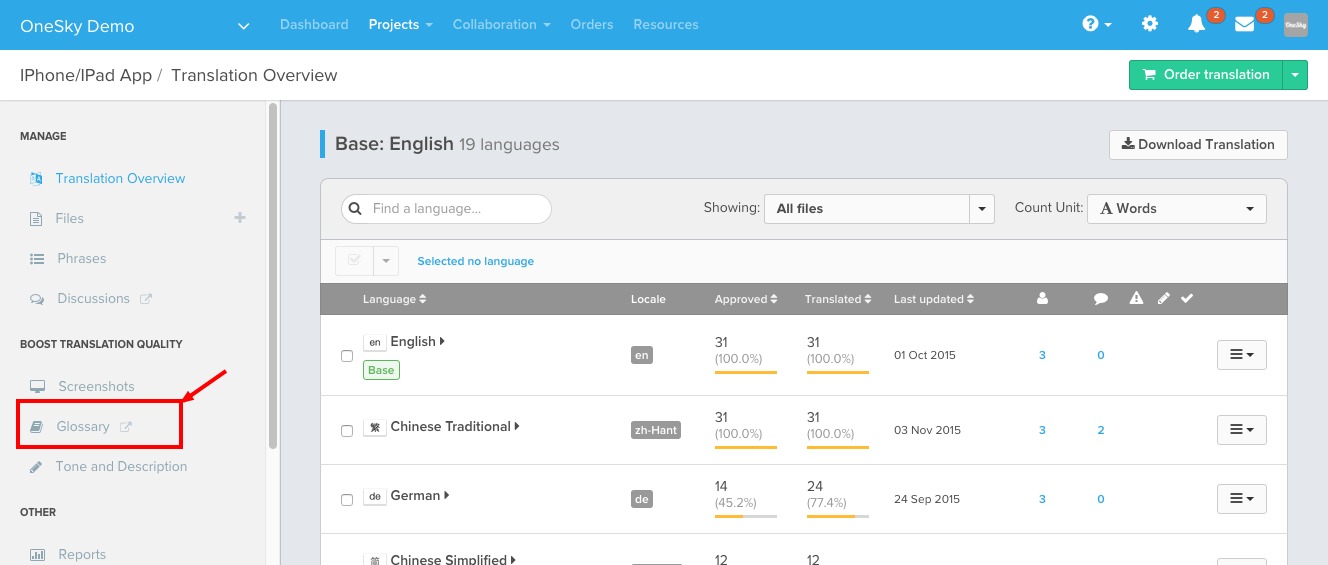 2. Click on the "+" sign next to "Glossary Terms"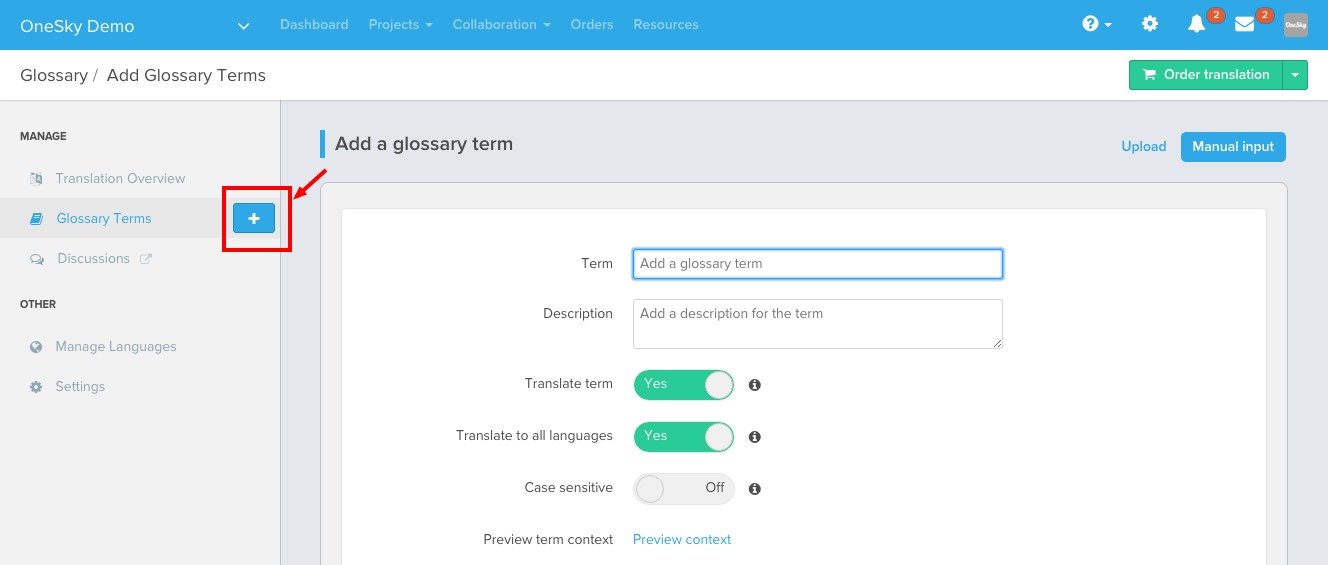 3. You can either enter the terms manually or upload a spreadsheet.
Method A: Enter glossary terms manually
1. Select "Manual input" and fill in the following information:
Term: Base language glossary term


Description: Extra details that may provide more context for translators


Translate term: If you select No, translators will know that you want to keep this term untranslated (e.g. your app/company name)


Translate to all languages: If you select Yes, you can specify which language(s) you want the term to be translated into and which ones to not translate into (e.g. translate into French but keep untranslated in Chinese)


Case sensitive: Choosing On means that the glossary term "Apple" will not consider "apple" as the same word


Preview text context: You can preview where the glossary term appears in your original file for a better reference when filling in the information for the glossary term. If the term appears more than once in the file, clicking the refresh button will show the term in other paragraphs.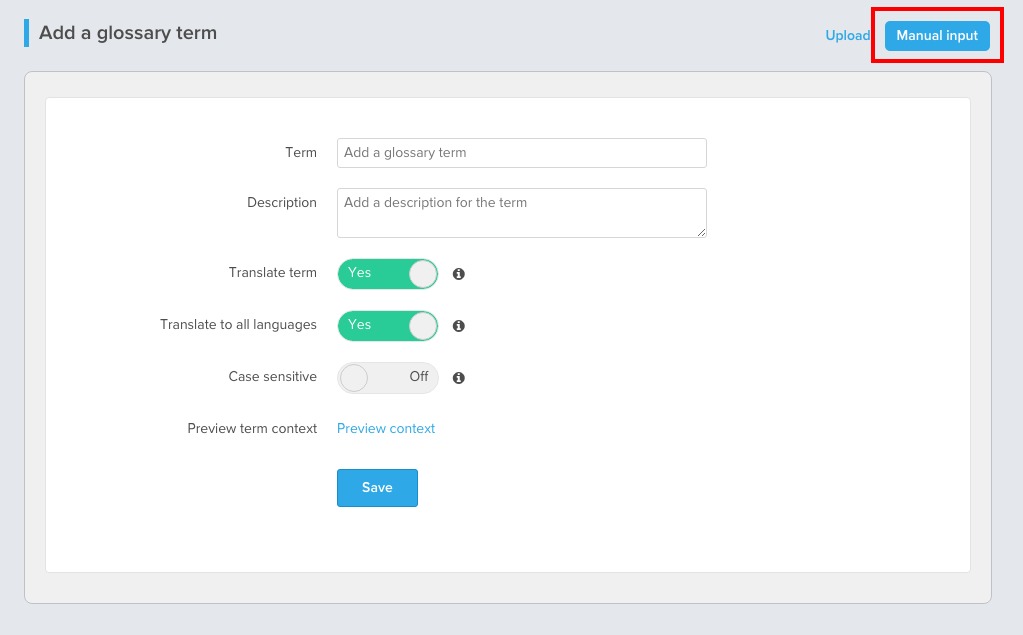 2. If you already have existing translations for your glossary terms, you can go to Translation Overview > language to enter your existing translations.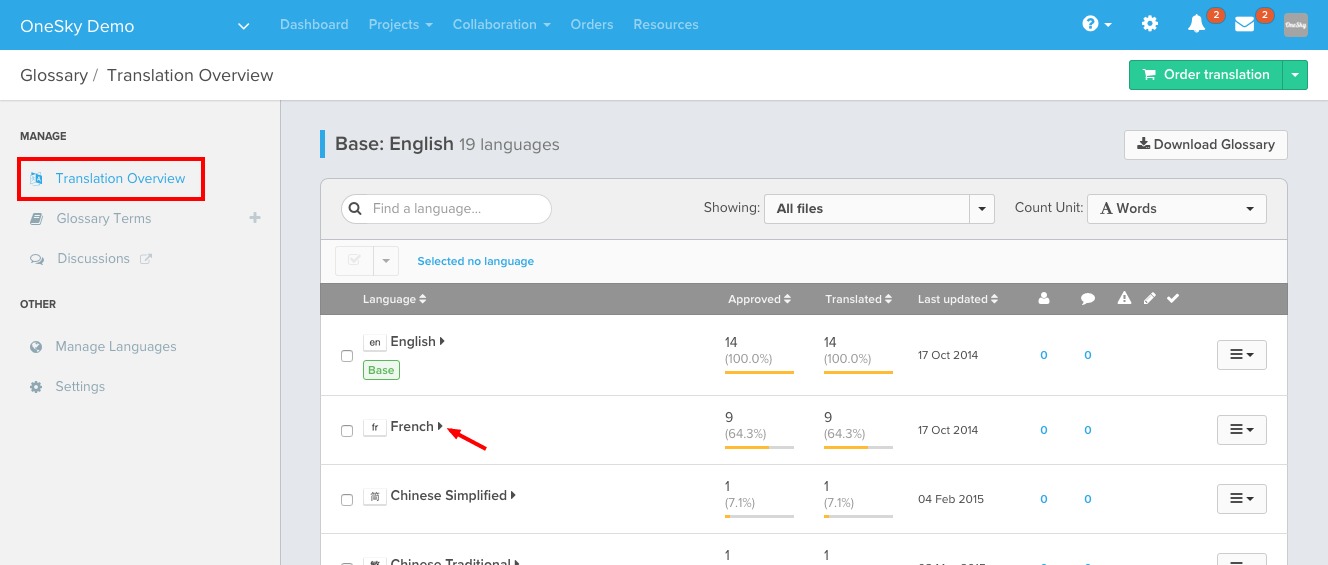 Method B: Upload the terms using a spreadsheet

1. Select Upload to upload your spreadsheet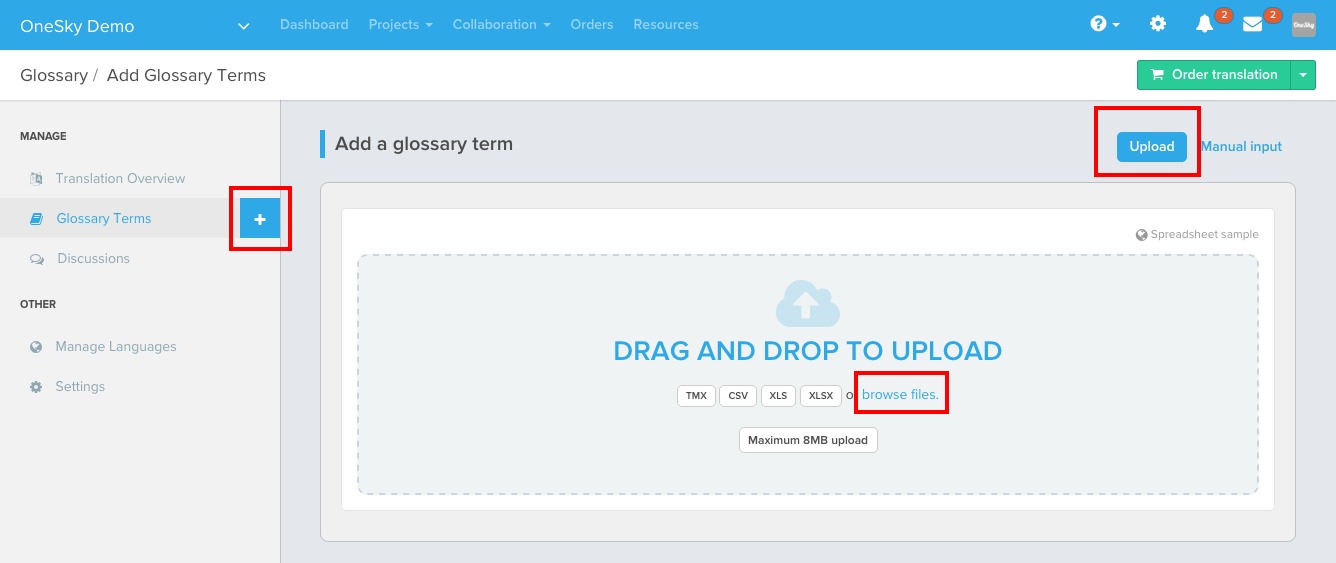 2. Structure your spreadsheet in the following sample format:


3. Define the structure of your spreadsheet by specifying your columns. Please make sure that the base language is the same as the base language of your project.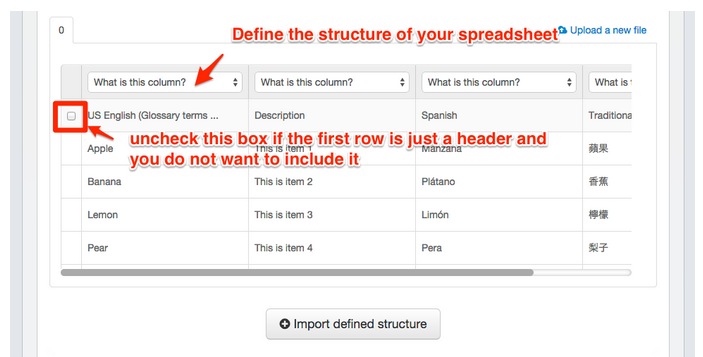 4. Click Import Defined Structure.


5. The following default settings will be applied to all uploaded glossary terms.
Translate term: Yes
Translate to all languages: Yes
Case sensitive: Off
To update the settings of individual glossary terms, see the below section.
Update glossary terms
---
When you already have glossary terms, you can update them with the following steps:
Go to Glossary Terms
Click on the gear icon next to a term and select Term information
Edit the glossary term content and settings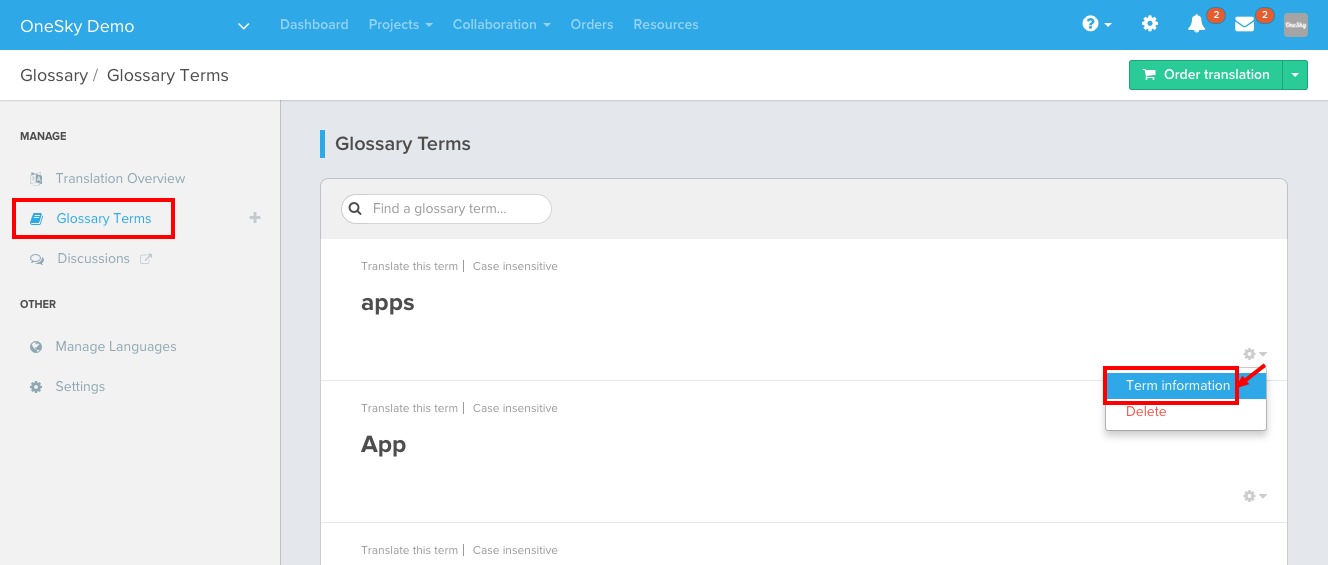 Downloading Your Glossary
---
1. Go to Glossary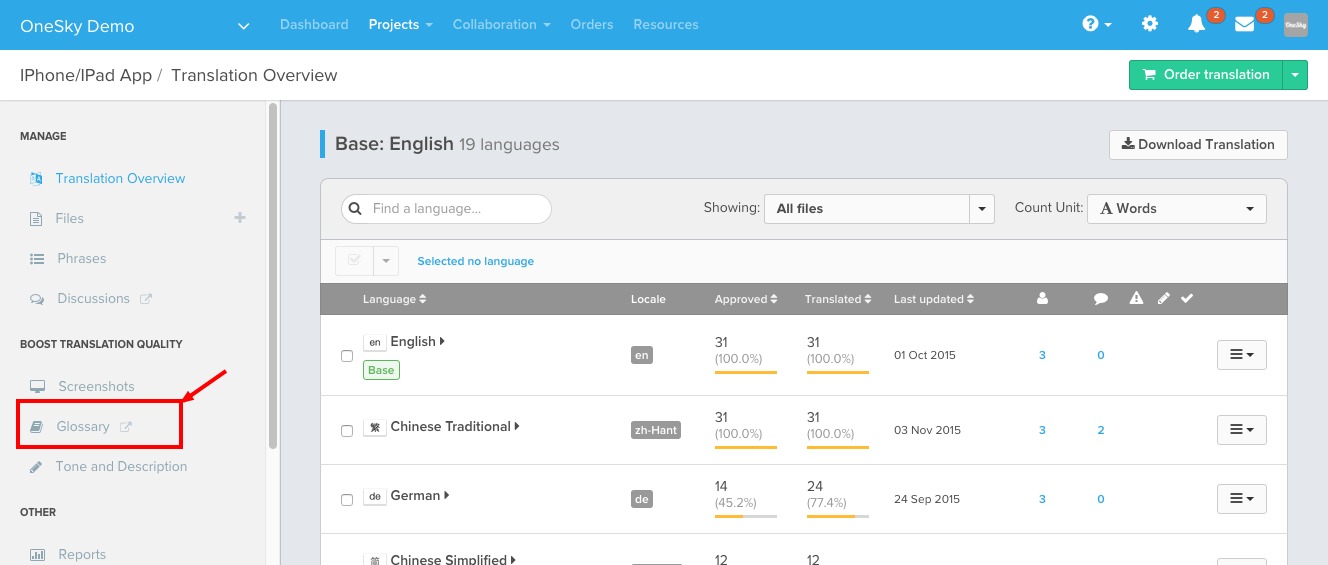 2. Click Download Glossary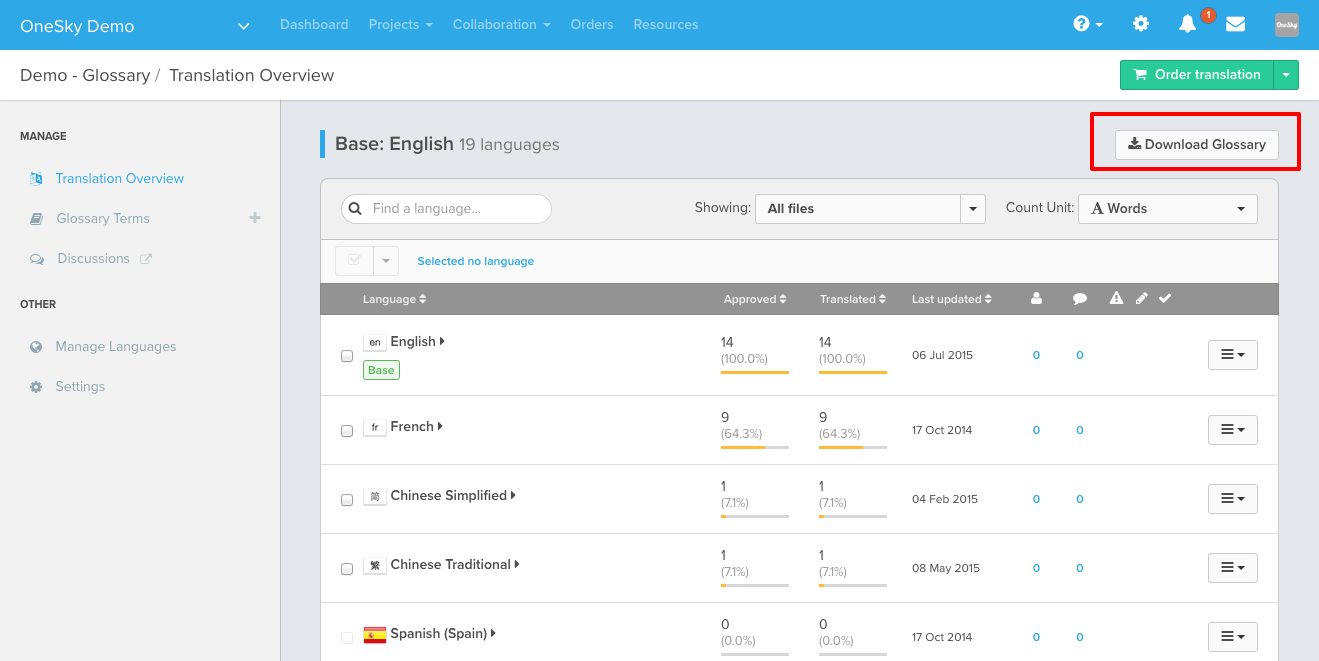 What would the translators see if you've created a glossary?
---
When the translators start translating, they will be prompted to translate the terms defined in the glossary first.

If a glossary term has a translation, he/she will be prompted to use the translation saved in the glossary.

In the below screenshot, you can see how 3 different statuses of glossary terms will be shown in the translation tool:

A. Already has a translation

B. Does not have a translation yet

C. Should remain untranslated

Sharing Your Glossary Across Different Projects
---
1. It is possible to link one glossary project to all of your projects in your organization. If you require this support, please contact us at support@oneskyapp.com.
Related Posts on our Blog
---