This section will show you the simple steps to make changes to your phrases for translation after the initial upload.
There are 3 ways to add, remove, or update your Phrases on OneSky:
1. Uploading an updated file to your Project
2. Moving Phrases among files in the "Phrase Management" page
3. Directly updating the Phrases in the Translation Tool
1. Upload an updated file
---
You can add / update / remove Phrases from your project by uploading an updated file to your project. Our system can automatically detect which Phrases are new / updated! 


1. Click the "+" sign next to "Files" 


2. Select "Upload" then simply drag your file into the box or click "browse files" 



3. Please upload the updated file using the same file name as your previous import (otherwise it will create a new file). Click "Import phrases" now to add or update Phrases.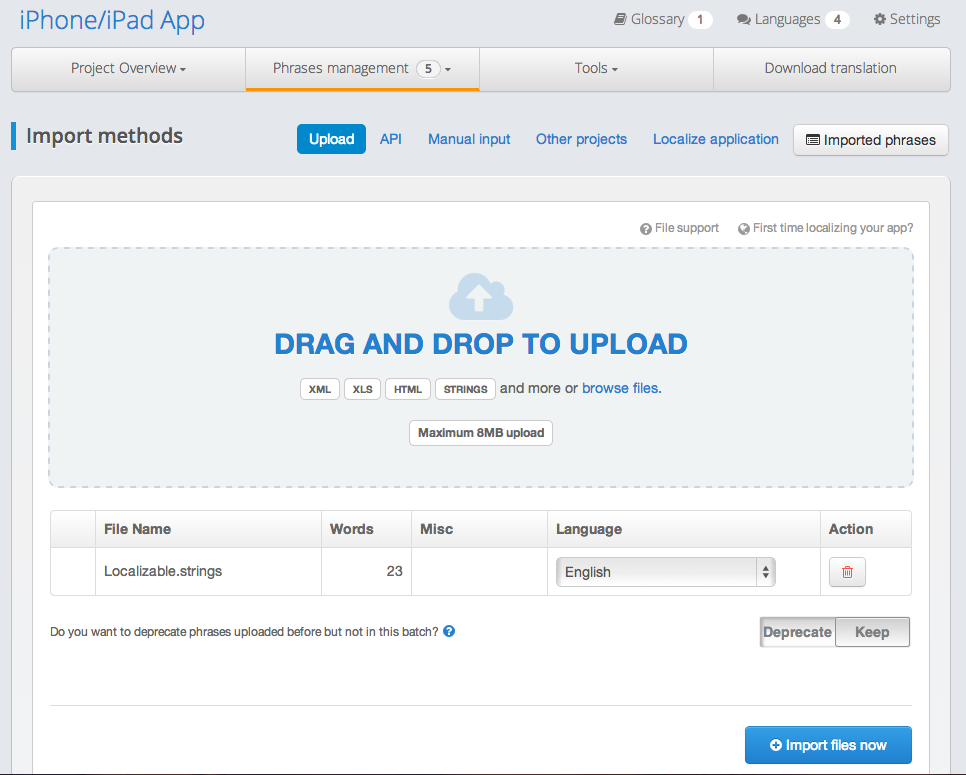 4. If you want to deprecate* the Phrases that no longer exists in this file, choose the option Deprecate before import.
If you have chosen the Deprecate options, any strings that are not present in your updated file will be deprecated. For example, if you original file contains strings A, B, C, D but your updated file only contains strings A, B, C, then string D will be deprecated. 
Definition of deprecated strings: 
only admins will be able to view them. Other collaborators (moderators, reviewers, translators) will not be able to see them. 
they will not be included in the translation order when you order professional translation service from us. 
they will not be included in the downloaded translation file. 
* We do not support this function for spreadsheets and CSV files.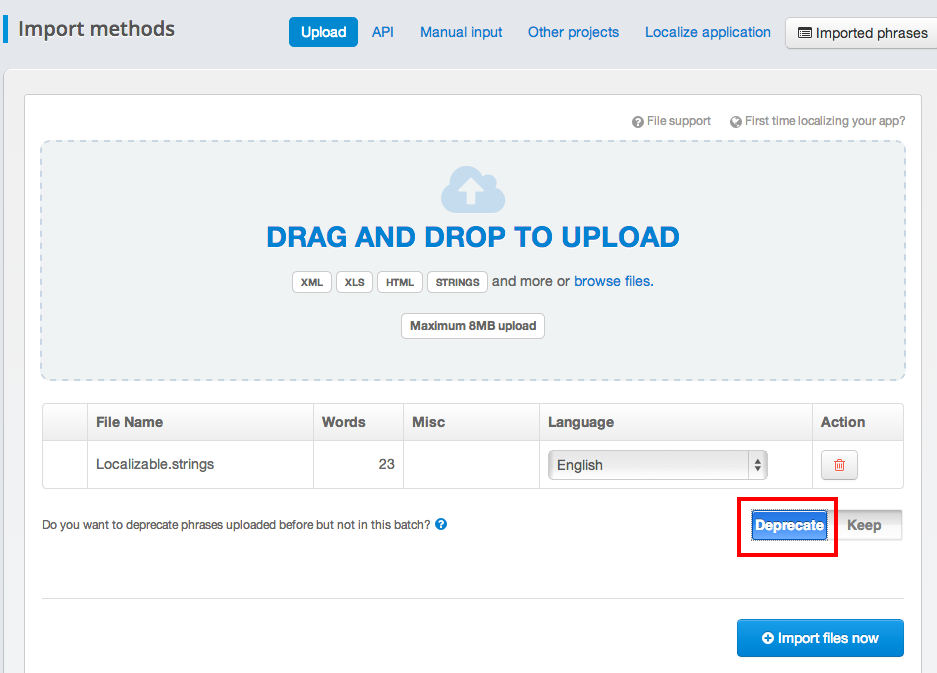 2. Move Phrases among different files in Phrases Management page
---
If you have multiple files for the same project, you can move Phrases from one file to another under the "Phrases" tab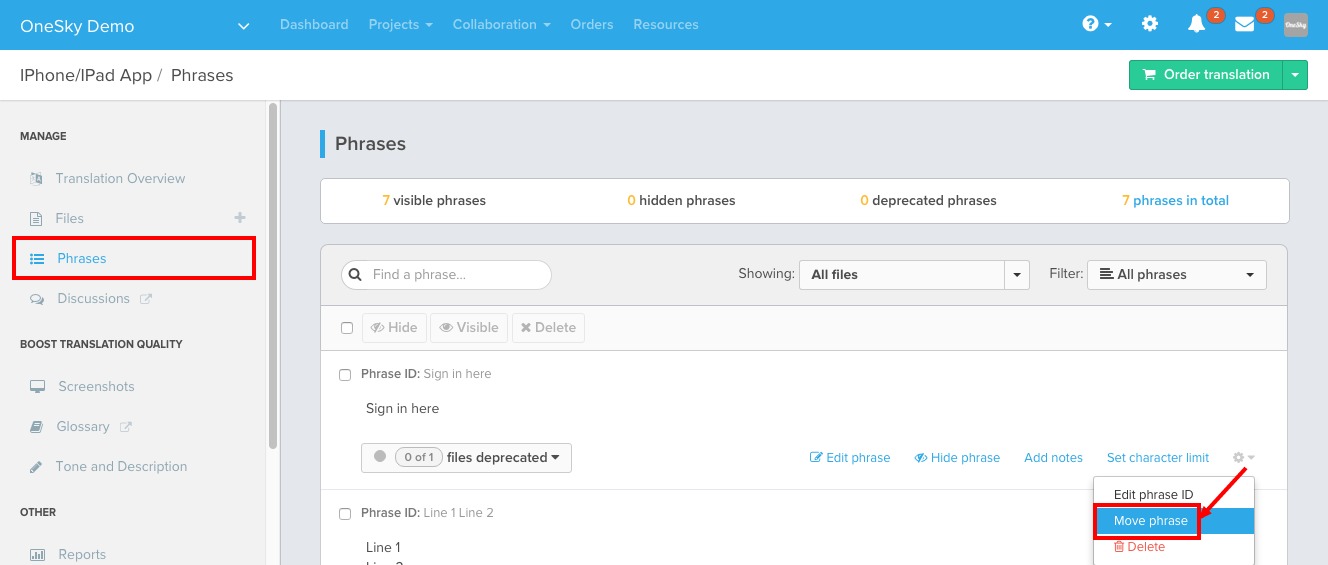 3. Update Phrases directly from our translation tool
---
If you simply want to edit any existing Phrases, you can simply do so directly on the translation interface
1. Select "Translation overview". Then click into your base language, e.g. English.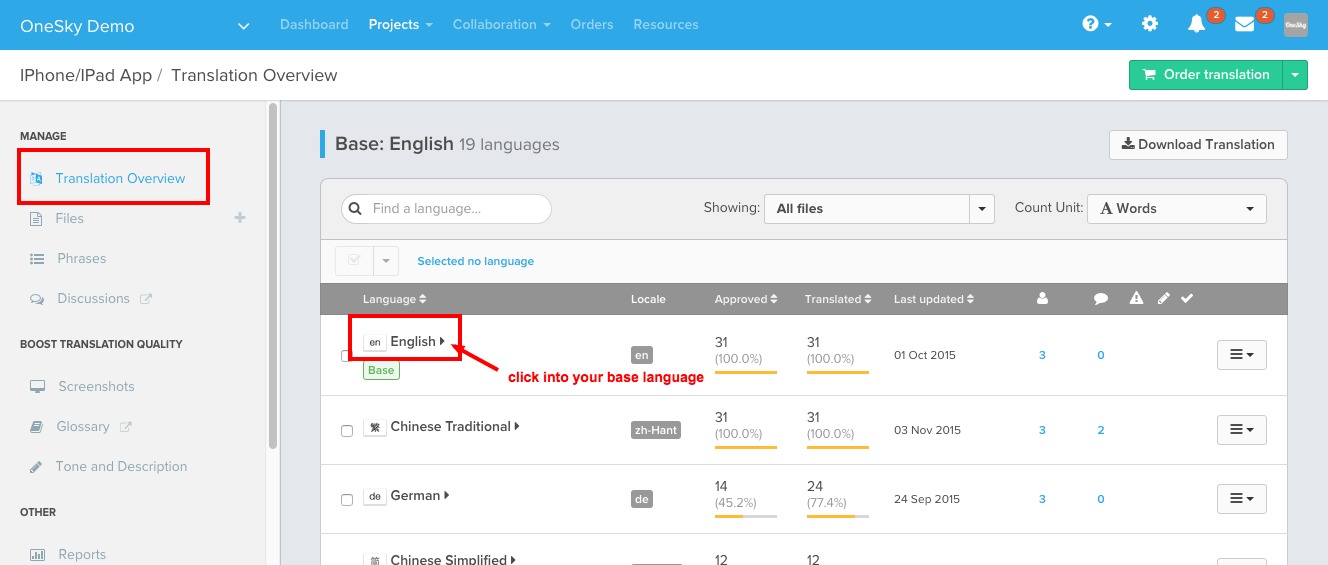 2. You can search for the phrase that you want to edit. Then you can edit the content of your phrase directly in our translation tool.