1. Create a OneSky account and log in to the platform at www.oneskyapp.com.
2. Click "New Project Group" or "Add new project" to create a new Project. 
"Projects" help you categorize all the different translation formats you're working on at one time. A "project group" can have multiple "projects" to organize your files.

For example: in a "OneSky Project Group," you can add multiple "projects" like translation files for your "iPhone/iPad App," "Android App," etc. These can all go under the "OneSky Project Group" to keep things organized.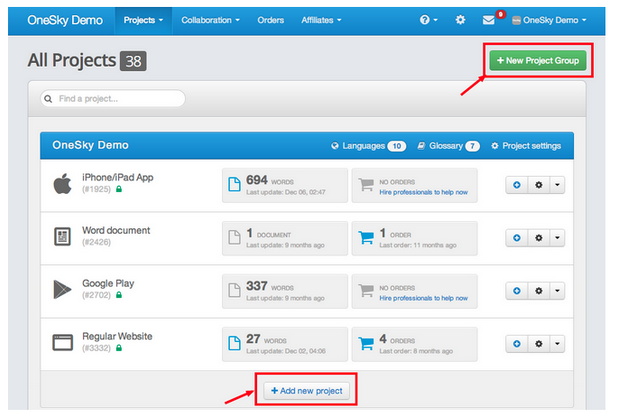 Select the

format

for your translations: App Store Description, Mobile Apps/Games, Websites/Web Apps, or Documents.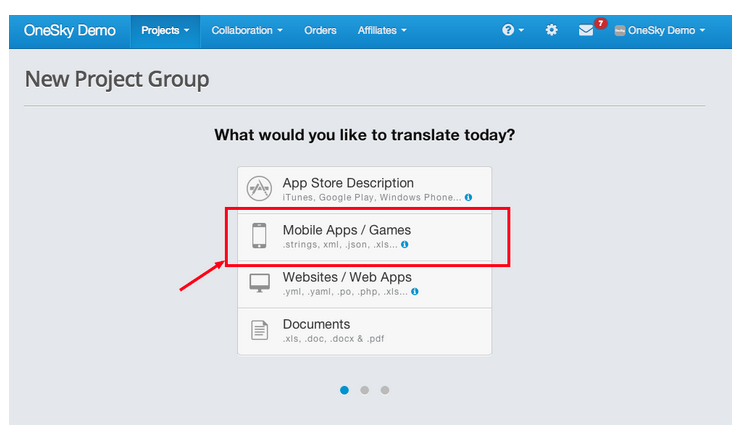 4. Next, you'll be prompted to enter some basic details about your project:
Select how you want to translate your text:
"Professionals" - Order professional translations directly from OneSky's network of translators.  

In-House - Invite your in-house translators. (Private Project) 

Select your mobile app type

Choose your base language. (This is the base language that your project is originally written in.)

Enter a name for your Project Group
* If you're creating a new Project within an existing Project Group, you'll not be able to edit the base language and the Project Group name as they will be the same for all Projects under the same Project Group.
This means that if you have multiple base languages for the same Project, you'll need to create separate Project Groups for them.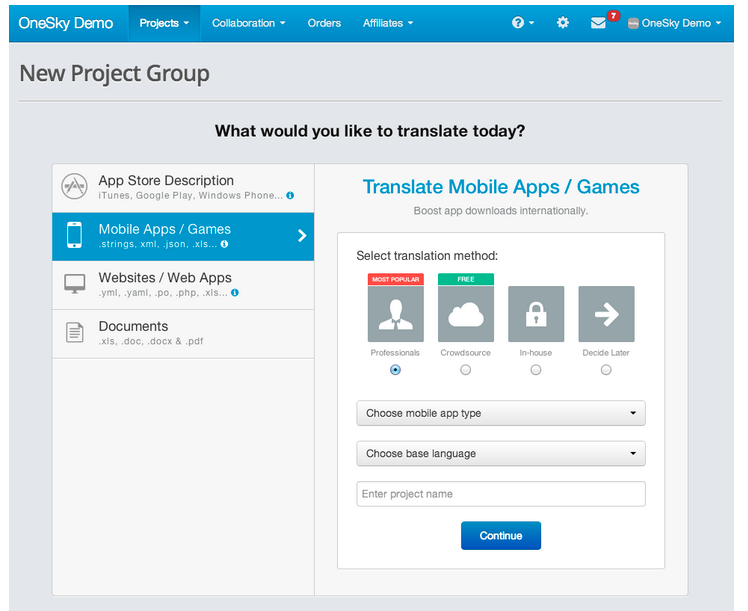 Upload Phrases
---
1. 7 uploading options
Spreadsheet (e.g. .csv, .xls, .xlsx). Learn more. 
String file (e.g. .strings, .xml, .yml, .yaml, .po, .pot, .rrc, .resx, .resjson, .properties). Learn more. 
Documents 
From another platform on OneSky (e.g. from your another project on OneSky). Learn more. 
API
Manual input

* Please upload the phrases for your base language first before uploading other translated files
* For app description, you simply need to input your app store link and our system can grab the text for you. Learn more at "Importing phrases (app description)"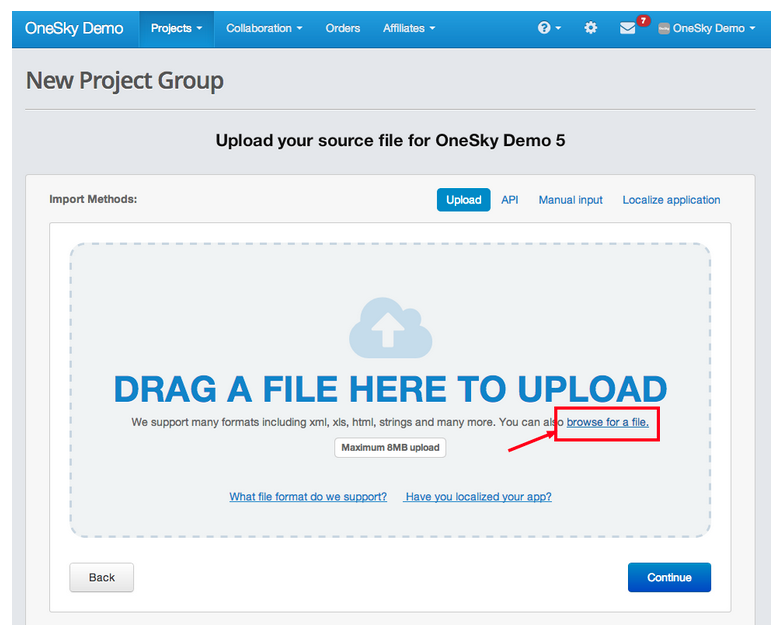 2. Choose your target languages and then click "Finish & Create Project"