What is a "preferred translator"? 
---
If this is not your first time of ordering translation for a particular language on OneSky, there is an option to use "preferred translators" at checkout. 
A "preferred translator" is the translator who has translated the most number of words for your projects previously.  
Selecting to use "preferred translators" might lengthen the turnaround time required to complete your translations (as they might be handling other jobs at the moment) but this option can often help to ensure consistency for your project. 
If your deadline is really tight, you can select to not use your preferred translators and we will assign the job to the translator who would be able to start your job soonest. 
How to switch between "preferred translator" vs. "fastest translator"
---
By default, our system will pre-select "preferred translator" for you if there are any 
1. On the order form, select the languages that you'd like to switch between preferred translator vs. faster translator 
2. Click on the drop down menu "Use Preferred Translator" and select your preference 
If you choose "Yes", the job will be assigned to your preferred translators, i.e. the translators who have translated the most number of words for your account
If you choose "No", the job will be assigned to the translators who can start the job the soonest 
If it shows "Not available" for "preferred translator", it means you have never ordered that language before for your account, so there is no "preferred translator" for that language


3. You can see the updated delivery time needed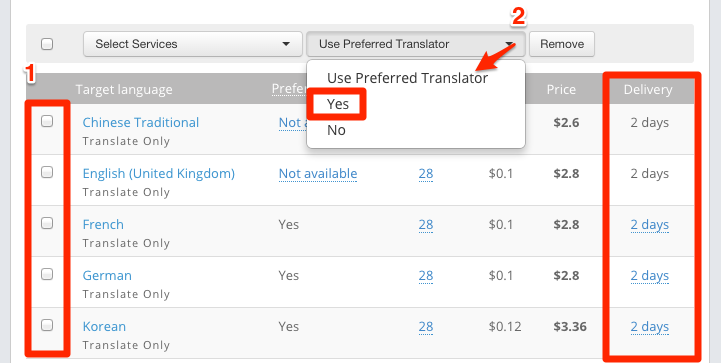 Related Posts on our Blog
---