Source Strings 
---
Visible phrases 
all collaborators will be able to view these phrases.
they will be included in the translation order when you order professional translation service from us. 
they will be included in the downloaded translation file 


Hidden phrases 
only admins will be able to view them. Other collaborators (moderators, reviewers, translators) will NOT be able to see them. 
they will NOT be included in the translation order when you order professional translation service from us. 
they will be included in the downloaded translation file 
Deprecated phrases 
only admins will be able to view them. Other collaborators (moderators, reviewers, translators) will NOT be able to see them. 
they will NOT be included in the translation order when you order professional translation service from us.
they will NOT be included in the downloaded translation file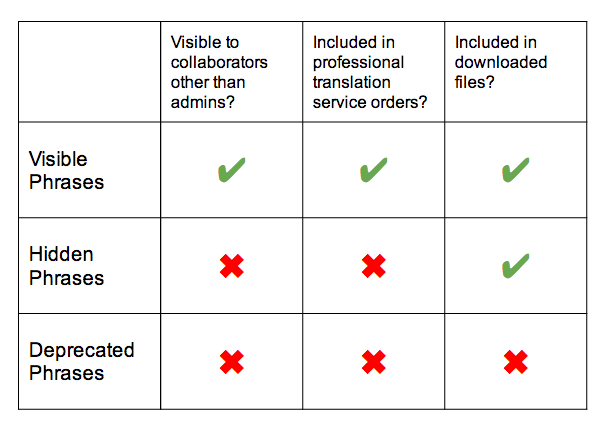 Translations
---
Approved translation vs. Finalized translation
Only approved or finalized translations would be included in the downloaded file 
For approved translation, collaborators will still be able to edit the translation
For finalized translation, only collaborators with "admin" / "moderator" / "reviewer" right will be able to edit the translation. Collaborators with only the "translator" right will not be able to edit the translation. 

*Important* if you finalized any source phrases or translations, any subsequent imports won't override those finalized phrases or translations unless you unfinalize them first. 
You can set your own threshold so that a translation would be auto-approve when it receive a certain number of votes from your collaborators. Collaborators can vote for a translation by clicking on the "heart" icon under each translation that is not translated by himself / herself. 
To change the threshold, go to "Settings" of your project and change the vote number required for a translation to auto-approved under the section "Quality Assurance".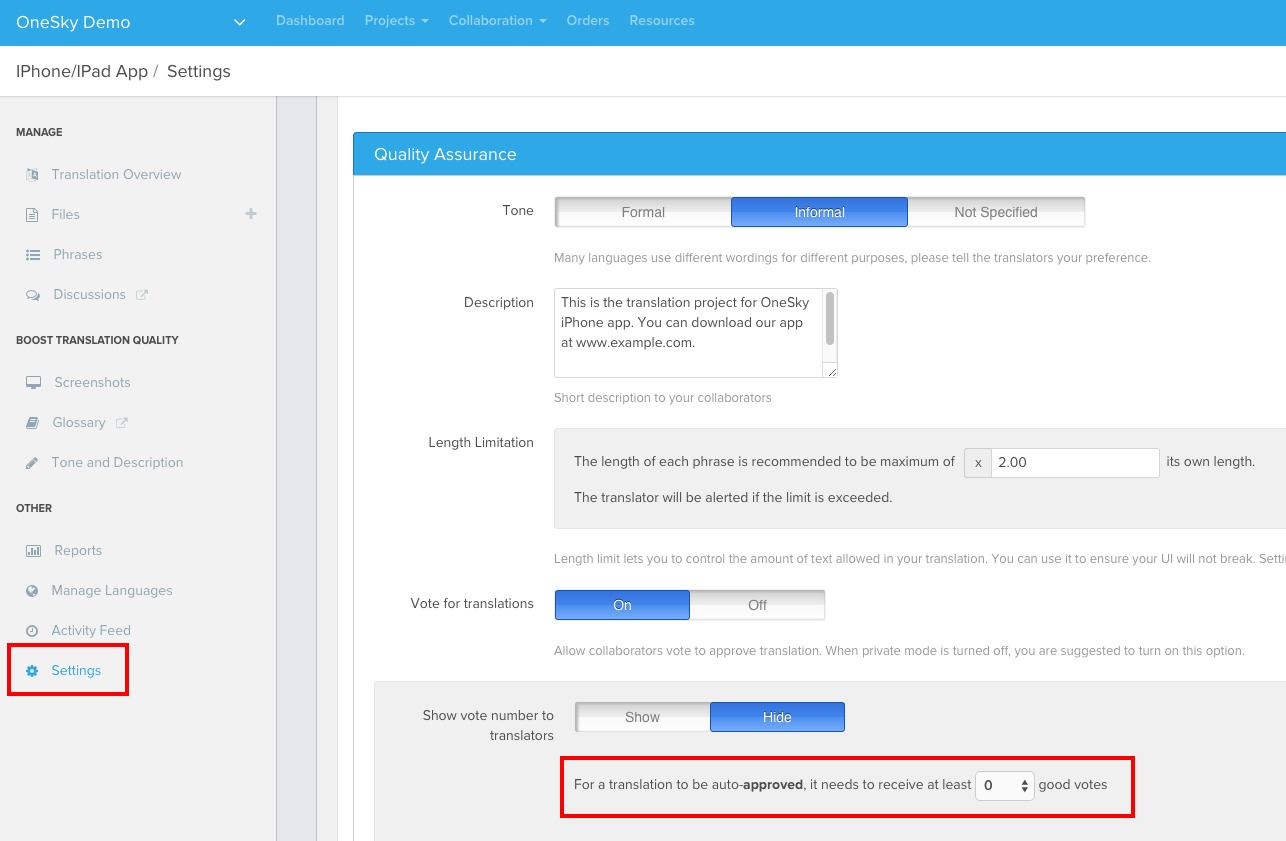 Outdated translations 
These are phrases where you have updated the content of your base language since your last translation order(s). Thus, these translations might become "outdated", i.e. the translation might not fit your updated source strings anymore.
When you order professional translation service, there is an option for you to choose whether to also translate all the outdated translations.