OneSky's translation management system (TMS) platform is the starting point for both ordering Professional Translation (Pro-T) services and managing your in-house team to work on your translations.
This guide will explain how you can use our platform for a more efficient localization process.
Note: Also, see our in-depth Introduction to iOS Localization and our Introduction to Android Localization, both found in our OneSky Localization Academy.
(See here to translate: App Store Descriptions, Zendesk Articles, Excel, PDF and other documents.)
Step 1: Log into our platform
Create a OneSky account and log in to the platform.
Step 2: Create a Project
After logging in, click New Project Group or Add new project to create a new Project. Follow the prompts to set up your page.
Projects help you categorize all the different translation formats you're working on at one time. A Project Group can have multiple Projects to organize your files.
When choosing the base language, please remember that this is your original language, and you need to get this language translated.
A Project Group's base language and name stays the same for all its Projects.
Create a separate Group for a different base language.
Step 3: Upload your base language phrases
The file upload process is the same across websites, mobile apps, games, and text translations. Here are the basic steps:
Option 1: Upload a String File for Translation
Click on the "+" icon to upload your base language string file.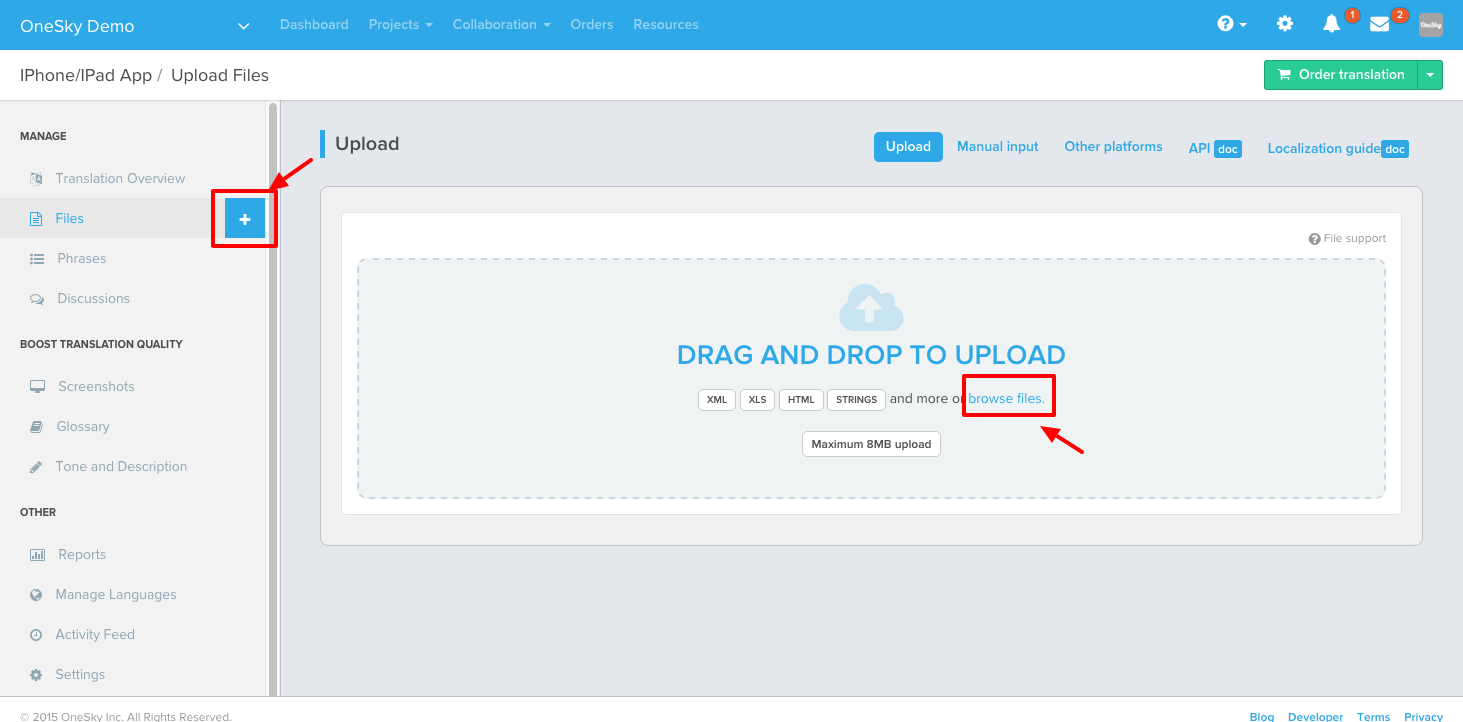 Choose your base language. (Be sure to upload your base language file

first

before uploading translation files, if you already have existing translations.)

Our TMS automatically extracts the text that needs to be translated from your files (i.e. .strings, .stringsdict, or .xml).
Here is a full list of file formats that OneSky supports.
Option 2: Upload through API
Importing string files to get them translated then exporting them into your app seems easy enough! But reduce the manual labor and start streamlining your entire localization process using our APIs--from import to ordering to exporting--without having to leave your production environment or even using our web platform.
Check out our Github page for the specs.
Step 4: Update Files
Upload an updated file with the same file name to add, remove, or change existing phrases. Our system will automatically detect new/removed/updated phrases. (File deprecation is available.)
Step 5: Start translating
After you're all set up on our platform, here are several options for getting your phrases translated: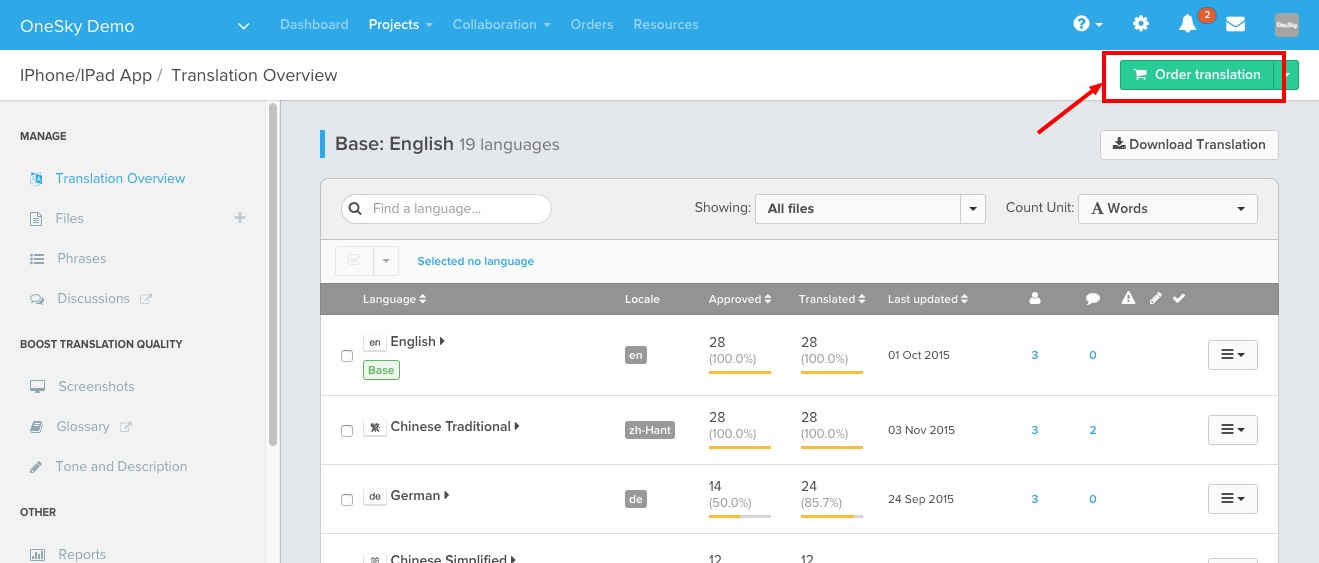 Set up your own localization team:

Invite your own in-house translators for private projects by Collaborators > Collaborators > Add My First Collaborators

commenting

on individual phrases in the

Translation Tool

(in each language under

Translation Overview

)

discussing entire project matters in Collaborations > Collaborations > Discussions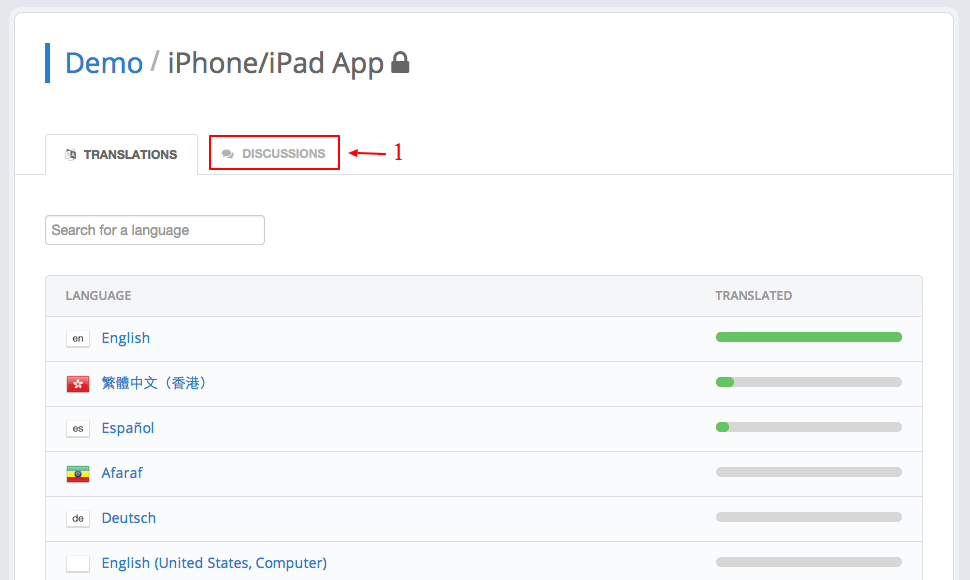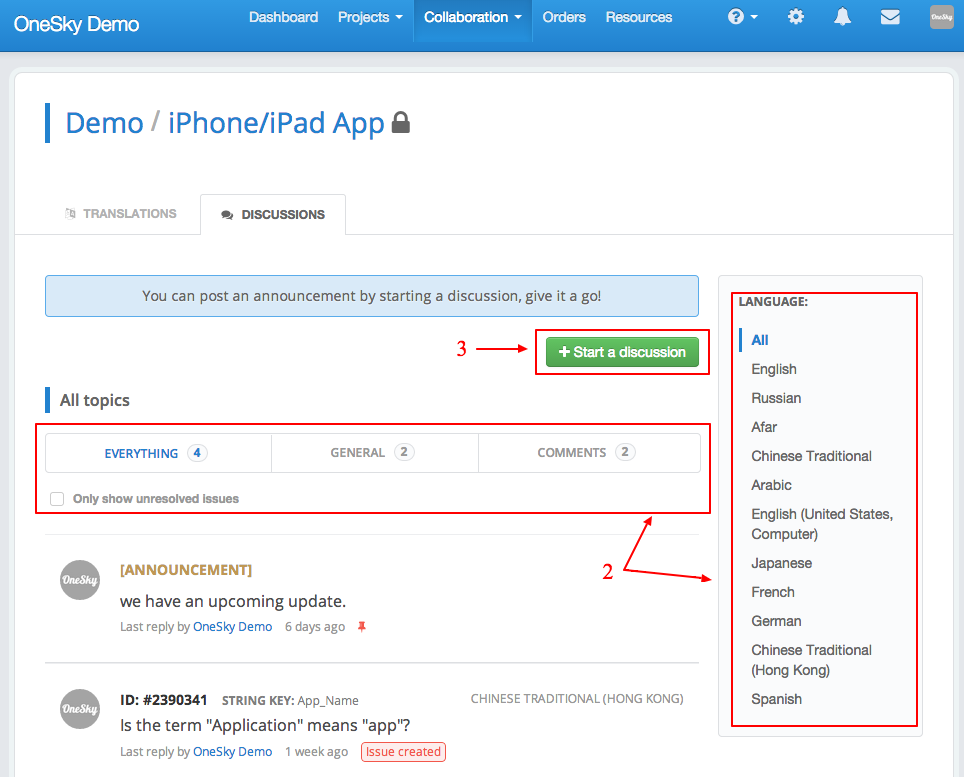 Now that you've got the basics, here are some next steps to explore: